FUN, GAMES & UNFORGETTABLE ALPINE PANORAMA
Family Holidays in the Tyrolean Mountains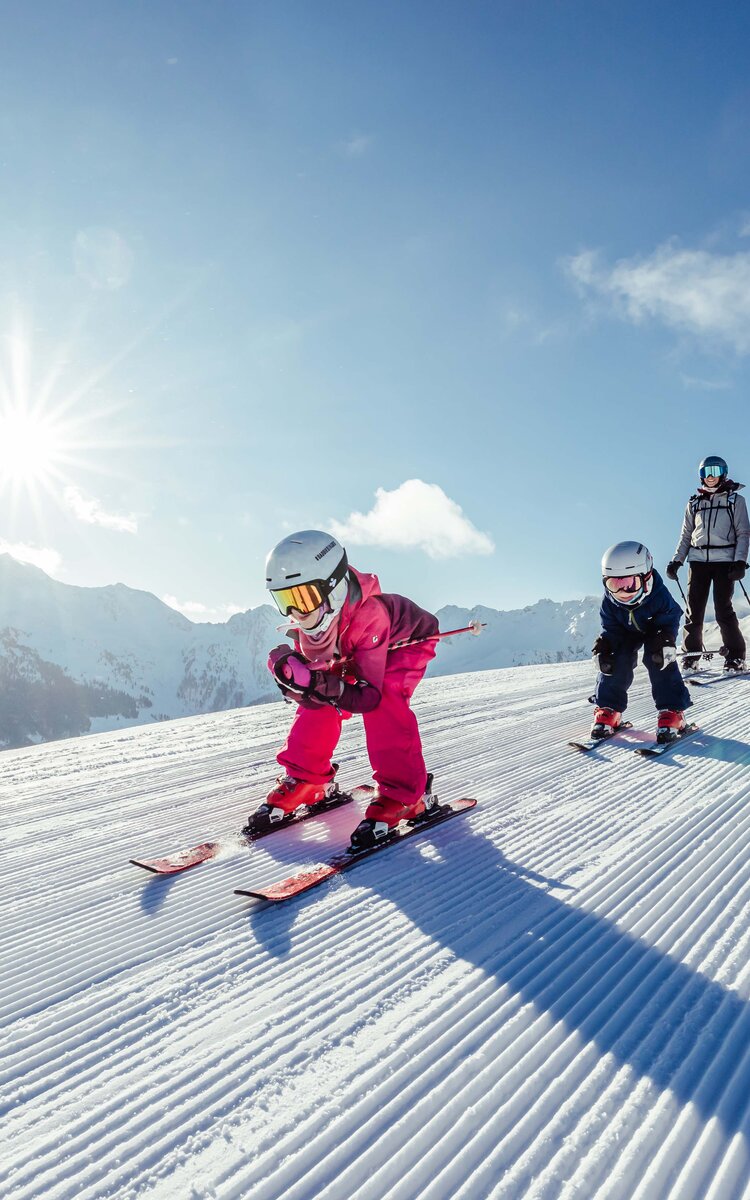 Warum sollte deine Familie im Winter das Alpbachtal besuchen? Die Antwort ist einfach: Es bietet ein Winterparadies, das Groß und Klein gleichermaßen begeistert: Perfekte Skiferien, Pistenspaß, lustige Rodelpartien und noch viel mehr warten auf dich und dein ganze Familie.
Auch im Sommer bietet das Alpbachtal Spiel, Spaß und ganz viel Naturerlebnis für die ganze Familie.
Während sich die Kinder im Lauserland vergnügen, können die Erwachsenen die Zeit nutzen und das traumhafte Bergpanorama auf sich wirken lassen. Oder ihr wandert gemeinsam durch die intakte Natur der Region entlang der familienfreundlichen Wege in Richtung Berggipfel. Lasst euch inspireren!
Family hikes in the Alpbachtal
What makes the Alpbachtal so unique? Even the youngest family members can look forward to summit experiences and enjoy the incredible views with the grown-ups.
The 3-day Family Tour takes you over hill and dale through the Alpbachtal. This circular route leads you and your family from Alpbach to the Gratlspitze and on to the Pinzgerhof, where little goats and bunnies are waiting to be fed and petted. The kids can let off steam in the playground while you sit back and sample regional delights. Who knew family holidays could be so relaxing!
Another highlight for the whole family is conquering the Wiedersberger Horn. First you take the Wiedersbergerhornbahn up the mountain before reaching its summit via the family-friendly loop trail. At the top you are rewarded with an impressive view of the Zillertal Alps, the Rofan Range and the Kitzbühel Alps, stretching as far as Innsbruck and Bavaria. This is an outdoor adventure that you will only be too happy to share with the kids.
Good to know: After the hike to the Wiedersberger Horn, a surprise awaits our younger guests just below the top station: Lauserland children's mountain top adventure playground!
Discover the region's family hikes!
Fun & games at Lauserland on the Wiedersberger Horn
Lauserland
You have just conquered a summit with your family and you're heading to the next adventure. Lauserland children's mountain top adventure playgrond is located directly below the Wiedersbergerhornbahn top station. Kids can use up any remaining energy at a total of 40 play areas. Allow us to prepare you for any questions they might have with a selection of its attractions:
Yes, there is a giant jumping pillow.
That's right, there's a pond with exciting water games.
Correct, you can work your way around the rope course.
No, there isn't a gigantic airplane, real T-rex or fairy forest.
Yes, there's a fun alpine coaster, the Lauser-Sauser.
Explore the Lauserland
Alpbachtaler Lauser-Sauser
The Lauser-Sauser alpine coaster will have the kids squealing with delight. Starting at an altitude of 1,845 m you whizz down towards the valley at speeds of up to 40 km/h. The two-seater sledges are also suitable for smaller guests who have not yet reached 1.3 m in height. They can be accompanied by adults whilst kids from the age of eight who are tall enough can ride the Lauser-Sauser by themselves.
Good to know: The Lauser-Sauser is in operation both in summer and in the winter months, promising year-round fun for the whole family.
Juppi's Enchanted Forest on the Reither Kogel
Surrounded by myths and legends, the mystical Enchanted Forest is located behind the three mountains on an inconspicuous hill in an idyllic setting.
It is just the place to inspire little adventurers and, for us adults, easily reached by the Reitherkogelbahn gondola lift. From the top station, a buggy-friendly loop trail leads straight to Juppi's Enchanted Forest. You will find a petting zoo, an enchanted village with a witches' kitchen, a magic tree and more for a magical family day out.
Tip: Hubsi and his team at Juppi Kid's Club provide a varied weekly programme for the whole family. There are exciting activities every day from Monday to Friday in the Alpbachtal, such as a trip to beekeeper Hannes who will tell you all about honey or building a forest marble run with Hubsi and his helpers. And by the way, the Alpbachtal family programme is included in the Alpbachtal Card.
Be enchanted!
Alpbachtal family programme
The Alpbachtal family programme takes place Monday to Friday in the summer months from July to September. As a family, you can discover a different Alpbachtal highlight every day.
Experienced staff have organized fun activities for the Alpbachtal family programme, such as making things together, learning something new through play, experiencing nature barefoot and having fun. The Alpbachtal family programme is for the whole family, it's not just the children who get to do handicrafts and play, but also the parents or grandparents.
This is the ideal opportunity to introduce your children and grandchildren to nature in a relaxed atmosphere.
Details
Tip: Take advantage of the benefits your Alpbachtal Card offers!
The Alpbachtal Card is issued by your host family at check-in and includes a large number of beenfits and bonuses for an all-round carefree package for your family holiday in the region.
Included are unlimited free rides on the mountain lifts as well as free use of our hiking, activity and family programmes. In addition, you and your family can have free access to refreshing bathing lakes in the Alpbachtal and interesting museums in the region.
The Alpbachtal Family Programme is also included with the Alpbachtal Card and therefore completely free of charge for your family.
Alpbachtal Card
The Alpbachtal treasure map
The Alpbachtal treasure map is your perfect guide to the family region in the heart of Tyrol, pinpointing the most exciting places for adults and kids. Because there are so many other highlights to explore in the region in addition to Lauserland and Juppi's Enchanted Forest. A trip to the wildly romantic Kundl Gorge, for example, or a leisurely walk through the largest open-air museum in Tyrol to discover exciting stories from bygone times at the Museum of Tyrolean Farmhouses.
Best of all: The treasure map is not just informative, but also a stamp card. Collect a stamp at each station to receive a present at one of Alpbachtal's tourist offices.
Go find Alpbachtal's treasure
Family accommodation in the region
Haven't found the right accommodation for you and your loved ones yet? No problem, because you will most certainly find a charming hotel or cosy holiday apartment in the Alpbachtal. All of our accommodations are run by families, which gives your time together in the Alpbachtal an even more personal touch. The numerous host families look forward to your visit and are happy to make recommendations for your time in the region.