Refreshing variety
Lakes & pools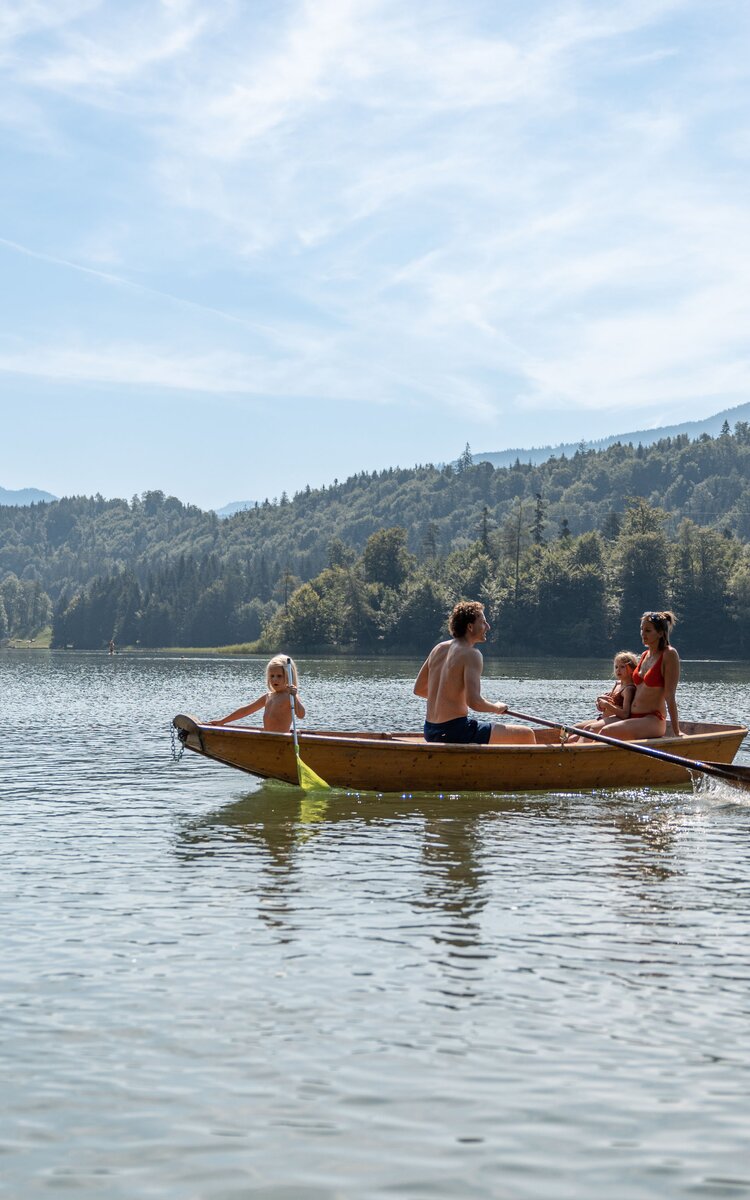 Lakes & pools in the Alpbachtal
There are many different places to cool down in the Alpbachtal in summer. From rushing mountain streams to thunderous waterfalls, bubbling brooks, fascinating gorges and glittering mountain lakes, the entire region is shaped by the element of water.
It goes without saying that the Alpbachtal's bathing lakes are the most suitable places for swimming and paddling. As refreshing as a mountain stream may be, if you prefer warmer temperatures for a family dip the region has plenty of bathing lakes to offer. What's more, the bathing lakes in the Alpbachtal holiday region warm up particularly quickly, thanks to their geographical location and sunshine. This makes them the warmest bathing lakes in the Tyrol and a popular destination for families.
The Multifaceted one
Lake Reintal
This natural bathing lake is not only one of the warmest and largest in the region, but also one of its most varied. In addition to swimming, the excellently located lake provides for plenty of other recreational options. Hiking trails, boat trips and even a via ferrata…find all these and more choices in the immediate vicinity. The overall offers are complemented by two campsites with direct access to the lake and a barrier-free hiking trail that leads around it.
Lake Reintal details
The central one
Reith bathing lake
Located in the centre of Reith im Alpbachtal, Lake Reith is a real beauty. But it's not just pretty to look at – it offers plenty of facilities for a perfect summer's day, from a spacious sunbathing lawn to a children's play area, diving board, kiosk and more. A popular path leads around the lake.
Reith bathing lake details
The idyllic one
Lake Berglstein
In the middle of the forest on the southern slope of the Voldöpperspitze lies a hidden gem: Lake Berglstein. Its location could not be more idyllic. Far away from the hustle and bustle, you can enjoy the gentle lapping of the water, the rustling of the reeds and the cheerful birdsong all around. Above all, Lake Berglstein is a natural treasure to marvel at and stroll around. It's also worth experiencing Tyrol's first Easy Learning Path, which leads around the lake.
Lake Berglstein details
Varied fun in the water
Alpbachtal's swimming pools
The kids would rather head to a pool today than the lake? Then off you go! The Alpbachtal region boasts three spacious outdoor pools that invite young and old to take a dip: